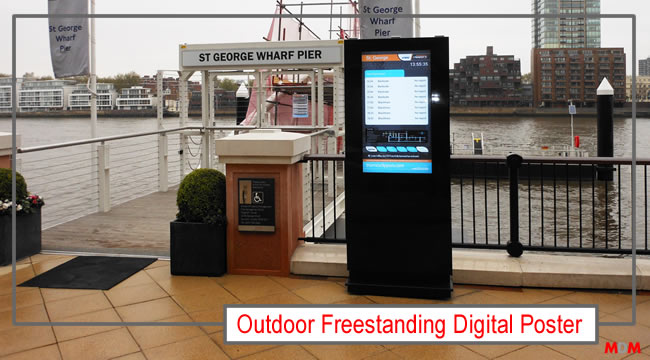 Outdoor Freestanding Digital Posters
These dynamic Outdoor Freestanding Digital Posters can be used in any outdoor conditions. The brand new range of outdoor digital displays are designed with a robust outer casing to give protection from both the elements and the public.
Temperature is an important matter with regards to outdoor digital signage displays, not only must the screen be able to withstand hot and cold surroundings but it must be able to manage internal conditions optimising the working temperature. A built in air-conditioning system is tailored to allow the digital display to work at an optimal level in any climate.
Other factors to consider are dust, debris and moisture from the air entering and affecting the performance of the digital signage display. The outer casing keeps out all airborne swarf, dust and other particles; broadening the range of possible environments. The outer cases have a IP65 waterproof protection, meaning they are protected from any wet weather conditions.
Brightness is key when using outdoor digital signage, our Outdoor Freestanding Digital Posters are 1500 cd/m2, more than 3 times brighter than a standard home TV.
The 65″ Outdoor Digital Poster also has a special Anti-Glare coating on the vandal proof tempered glass frontage.
Another advantage of this innovative marketing medium is how easily it can be updated. Traditionally outdoor signage was costly as technicians had to change and maintain signs whereas digital signage displays can be updated easily and remotely if required, lowering running costs further and increasing the return on the investment.
Optional extras include an external 3G antenna for wireless updates and a built in camera for user interactivity.
Some examples of suitable environments for this range include train/bus stations, town centres, concert halls, theatres, sporting arenas and outdoor leisure centres.
Contact Us