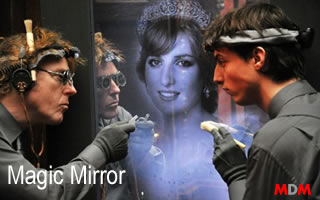 We are proud to supply our Magic Display Mirror for The Enchanted Palace exhibition at Kensington Palace featuring interactive theatre, film projections, storytelling and dramatic installations by fashion designers such as Dame Vivienne Westwood, Echo Morgan and William Tempest and milliner Stephen Jones.
Enchanted Palace – opened 26 March 2010
Kensington Palace will become The Enchanted Palace in a unique exhibition combining fashion, performance, and dazzling spectacle to reveal Kensington's magnificent State Apartments in a magical new light.
Acclaimed UK theatre company, WILDWORKS will cast a spell over the palace, creating a mysterious and atmospheric world for visitors to explore. Against the backdrop of the King's and Queen's apartments, leading fashion designers Vivienne Westwood, William Tempest, Stephen Jones, Boudicca, Aminaka Wilmont and illustrator/set designer Echo Morgan will each create spectacular installations, inspired by the stories of the princesses who once lived at Kensington – Mary, Anne, Caroline, Charlotte, Victoria, Margaret and Diana.
These extraordinary contemporary designs will be displayed alongside historic items from the Royal Collection and Kensington Palace's Royal Ceremonial Dress Collection, together with two dresses worn by Diana, Princess of Wales and Princess Margaret.
The Enchanted Palace experience is inspired by the changes taking place at the palaces to transform the visitor experience and an ambitious project due to completion in spring 2012.
Contact Us