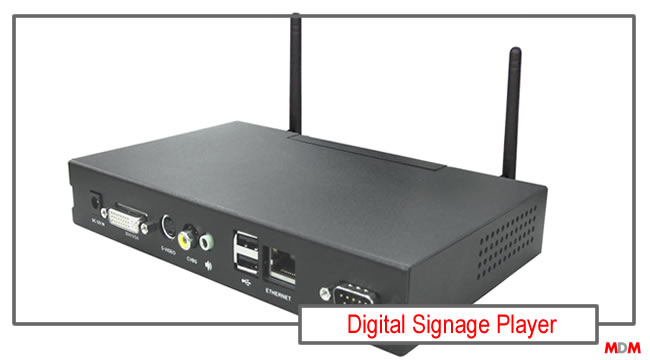 Digital Signage Media Players
PPHD – High Definition Standalone Digital Signage Player:
• Convert existing displays such as TVs or PC monitors into digital signage displays. It has an internal SD memory card which can be updated directly or via the USB port.
• Using a simple plug and play method you can load your media files (images, videos and music) onto a USB stick, plug it into the media player and your content will be loaded onto the internal memory card and will display in whatever order you like.
• As well as having a full HD output the High Definition Media Player also comes with additional scheduling software. This easy-to-use application allows you to define duration times and the order of each media file as well as allowing you to display scrolling text under your content.
PPNET – Network Digital Signage Player:
• Designed to wirelessly network up to 3000 LCD advertising screens for quick and easy updates. There are no expensive server or subscription costs – your PC acts as server.
• Compatible with any LCD, plasma or projected display and accepts content in all major video, audio, animation and graphic formats.
• Simply import your content, choose a screen layout and enter the times you want the content to appear. PPNET lets you add and update your own messaging information online at any time and can display up to the minute RSS feeds
• The Network Digital Signage Player is based on a Linux operating system which is known for its stability and resilience against viruses.
Contact Us